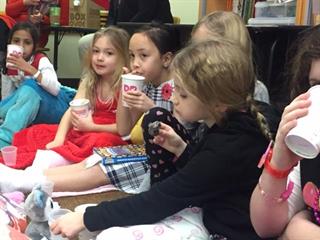 General News
For the Love of Reading!
June 1, 2018
Valentine's Day Fun!
For the Love of Reading…
Reading and relaxing! That's what the elementary students at TSF experienced today. Taking a break from the usual routine, Mrs. Seligman and Mr. Rosa along with the Pre-First teachers, hosted a "For the Love of Reading" in the first grade classroom. Students relaxed on beanbag chairs, sipped hot-chocolate, and read books. Every half hour, a mystery reader would show up to read to the class. Clues were shared with the students and they had to guess who was coming in. Everyone had a great time and lots of books were read!
Happy Valentine's Day!