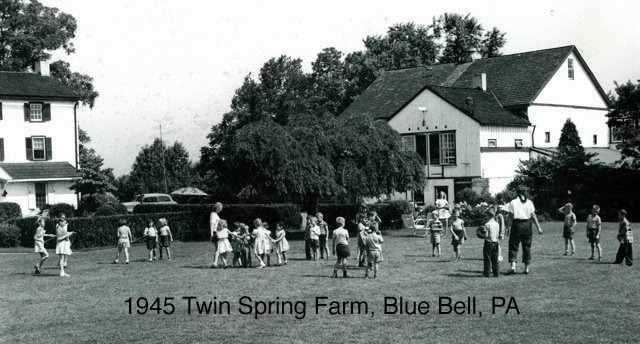 Day Camp Founder Celebrates Her 75th Camp Season
December 20, 2018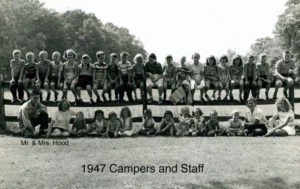 Twin Spring Farm Day Camp was founded in 1945, by Beatrice H. Randal and Richard (Dick) N. Hood. By 1947, their successful camp program had quickly outgrown its Blue Bell home, and settled into its current location in Ambler, Pennsylvania. After college graduation, Bea and Dick were married. Twin Spring Farm Day Camp continued, while from autumn to spring, Mrs. Hood pursued her educational profession, teaching at William Penn Charter School, and Dick joined his family business, Thomas B. Meehan Nursery, where the Fort Washington Industrial Park stands today.
Beatrice realized the great need for early development and socialization for children. Using her years of summer camp and teaching experience, Bea constructed the foundation of early childhood education on which Twin Spring Farm Day School was built, and continues to thrive. The facilities continued to expand to accommodate the growing school and camp enrollment, and Richard was able to join his wife at Twin Spring Farm Day Camp and School full-time.
They nurtured Twin Spring Farm Day Camp and School as it became a year round setting where children safely played, grew and learned to adopt the six pillars of character; Caring, Responsibility, Trustworthiness, Respect, Fairness and Citizenship. Because of their dedication and continued guidance for over seven decades, Twin Spring Farm has impacted through experiences and development the lives of thousands of children. Bea expressed her amazement as she explained that third and fourth successive generations have attended Twin Spring Farm.
The summer of 2019 will mark the 75th consecutive summer as founder and owner that Beatrice will begin. Under her guidance, along with her children and administration they will continue the contemporary camp program while keeping the traditional values that Bea founded the camp and school on. This rare achievement will be celebrated throughout the summer with many special events highlighting the accomplishments of Beatrice and Richard. Kudos to both!